You can email your photos in Windows 8.1 and RT using the Share ribbon in File Explorer -- or in Windows 8.1 apps with the Share Charm. You must have an email program configured in Windows in order to use these sharing features. Alternatively, you can attach files from your desktop to a Web-based email service -- or share links to files you've uploaded to cloud storage services. You can also compress your photos into ZIP files to optimize their file size for sharing.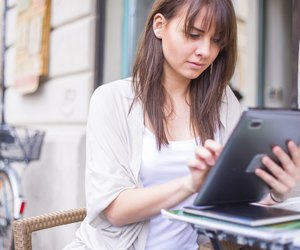 credit: jakubzak/iStock/Getty Images
Attaching Photos from File Explorer
Attach files directly from File Explorer using your default email program. Press "Windows-E" to open File Explorer. Locate the folder containing your photos. For example, open your "Pictures" library. Select the photos you want to share. Hold "Ctrl" while clicking to select multiple files. Click the "Share" tab. Click the "Email" button in the Send group. If prompted, select a size from the Picture Size drop-down and then click "Attach." A new email message opens in your default email client with the image files attached. Enter a recipient, compose your email and then click "Send."
Sharing Photos with the Mail App
If you use the Windows 8.1 Mail app, then you can use the Share Charm to attach files from other Windows apps. Open the "Photos" app from your Windows Start Screen. Select the photos you want to share. Hold "Ctrl" when making your selection to include multiple photos. Swipe in from the right of the screen to open the Charms menu and then select the "Share" Charm. Alternatively, press "Windows-H" to open the Share Charm. Select "Mail" to attach your photos to a new email in the Mail app. Compose your email and then click the "Send" button.
Emailing Photos on the Web
Most Web-based email services can send files as attachments, including Gmail, Outlook.com and Yahoo. Log in to your account on the Web and compose a new email message. Select the option to attach a file. This varies depending on the service you're using. For example, select "Attach," "Insert File" or "Upload." Locate the photos you want to send and then open them to attach. It may take a few minutes to attach the files depending on the file size and your Internet connection. Enter a recipient and then send the message to share your photos.
Optimizing and Compressing Photo Size
Many Web-based email services cannot receive attachments that are larger than 10MB. Some email programs prompt you to optimize photos by selecting a smaller size when attaching files, however selecting the original size retains the original dimensions and resolution of the photo. You can also compress images into a ZIP file using File Explorer. Select your images, click the "Share" tab and then click "Zip" in the Send group to automatically create a compressed ZIP file. Attach your ZIP file to an email message instead of individual photos to decrease the attachment size.
Sharing Links to Photos on the Cloud
Most cloud storage services support sharing files using links rather than attachments, including Dropbox, Google Drive and Microsoft OneDrive (links in Resources). Log in to the service on the Web. Select the photos you want to share. Choose the option to share your files, such as "Share" or "Send." Select the option to share a link for your files. For example, select "Get a Link," "Create Link" or "Share via Link." After the link has been generated, you can include the link in a new email message to share the photos with the recipient.