Setting up a home router in conjunction with your Bright House high-speed Internet connection enables you to share the connection among the various computers in your home. Accomplish this by creating a physical connection between the router and your Bright House modem, completing the connection by physically configuring the router using any network computer.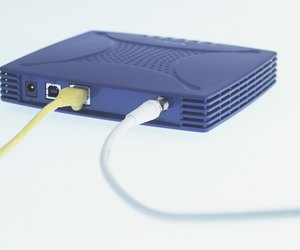 credit: Hemera Technologies/AbleStock.com/Getty Images
Step
Shut down all network computers and unplug your Brighthouse modem.
Step
Plug an Ethernet cable into the back of the Brighthouse modem and connect the other end to the "Internet" port on your router.
Step
Plug an Ethernet cable into the network port of each computer and plug the other end(s) into available ports on the back of the router. Restart all network equipment.
Step
Click "Start," "Programs," and open your Internet browser on any network computer. Enter the router's address (found in the instruction manual and typically something like 192.168.0.1) to access the router.
Step
Enter the default username and password for the router (found in the instruction manual.) Follow the onscreen instructions to configure your router for use with your Brighthouse connection, including inputting a desired network name, username and password.