Lenovo computers come with the tools necessary for users to create boot recovery media themselves. For decades, computers shipped with recovery media in the box, but modern computers commonly omit recovery media so that creating it is now the owner's responsibility. Recovery media restores Windows in the event of a catastrophic failure. Further, Lenovo points out that boot discs are a thing of the past, as Windows now supports recoverable media located only on a USB flash drive.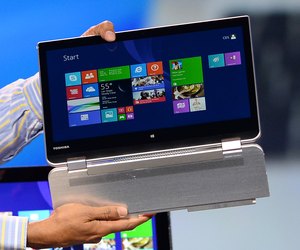 credit: Ethan Miller/Getty Images News/Getty Images
How to Create Lenovo Recovery Media
Step
Connect the USB flash drive to the computer while in Windows. Connecting the drive before boot can cause errors.
Step
Press "Windows Key-X," select "Control Panel," choose "Recovery," click "Advanced recovery tools" and select "Create a recovery drive" to open the recovery media creation program. Select "Yes" if the User Account Control prompt appears.
Step
Check the "Copy the recovery partition from the PC to the recovery drive" if applicable. The check box is grayed out on Lenovo computers that do not come with a recovery partition. The process will still work, but the recovery media will be a bootable image and not a recovery image for system refreshes and resets. Bootable images restore Windows to a factory install state, whereas recovery images flash Windows back to a saved state so that all your settings and data as of that point are retained.
Step
Choose the USB Flash Drive from the list to start the media creation. Creating the media may take up to an hour.
Step
Choose whether to delete the recovery partition when the process completes. According to Lenovo, deleting the partition frees hard drive space but makes it impossible to refresh or reset the computer if you lose the recovery media. You can close all windows and remove the flash drive at this point.
How to Boot from Lenovo Recovery Media
Step
Connect the USB Recovery media to the computer. Be sure to connect the media prior to booting for the process to work.
Step
Restart the computer and enter the Boot Menu. You can enter the Boot Menu by selecting "Restart" and pressing "F12" during the startup splash screen. Alternatively, access the Boot Menu from within Windows by opening the "Charm Bar," clicking "General" and choosing "Change PC Settings." From the "Change PC Settings" menu, select "General," choose "Restart Now" under "Advanced Startup," click "Use A Device" and then choose "Boot Menu."
Step
Select the recovery media from the Boot menu. If you've lost the recovery media, you can select the recovery partition here instead.
Step
Follow the on-screen instructions to set up the language and keyboard, then select "Troubleshoot." Choose the "Reset Your PC" option and follow the on-screen instructions to complete the process.