When creating a Google Alert, you can enter one word or several words, though Google recommends focusing on specific and relevant words so you receive better results. If you don't have a Gmail account, you can still create an alert with another email address, although you will need to respond to a confirmation email that Google sends to that address.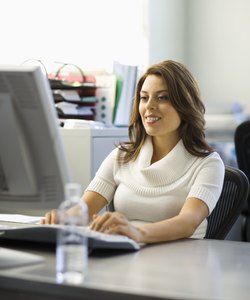 credit: Siri Stafford/Photodisc/Getty Images
Alert Setup
At the Google Alerts site, enter the words you want to use for your alert in the "Alerts" text box. A preview of the results of your alert will appear, and you can click "Create alert" immediately to use Google's default alert options, or you can change the options before creating the alert. Even after creating an alert, you can change its settings later by clicking the alert's "Edit" button.
Alert Options
Clicking "Show options" when creating an alert, or clicking "Edit" when viewing an existing alert, displays the alert options. You can change how often you receive alerts, which sources are searched online, your preferred language, a preferred region or country, whether you want all results or only the best, and finally at what email address you want to receive the alerts.