Pandora Internet radio is powered by the Music Genome Project, which is a sophisticated database of music categorized by trained music analysts. The Project has analyzed and categorized tens of thousands of songs based on criteria such as melody, harmony, instrumention and lyrics. Pandora users can create stations based on a particular song or artist, and the service will play songs that are similar songs based on Music Genome Project's criteria. Pandora offers two levels of service -- a free version and a subscription version. The free version includes commercials and a limited number of hours per week. Applications for Pandora are also available for numerous mobile devices.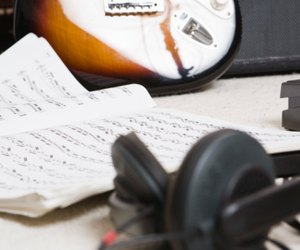 Step
Open up your Internet web browser and go to www.pandora.com.
Step
Click on register at the top of your screen next to the login button if you do not already have a free Pandora Internet radio account.
Step
Fill in the fields on the Pandora radio registration screen. These include name, email address, birth year and zip code. Do not forget to uncheck the box if you do not want promotional emails. Then click "Register for free."
Step
Click "Create a New Station" on the Pandora home page. The service will prompt you to enter an artist, song or composer name to create a station. Depending on what you choose, the service will play music related to your selection. Keep in mind that you may not hear the actual song or artist you chose right away. Pandora also offers ready made genre and comedy stations that you can choose if you don't want to create your own.
Step
Create stations for the different kinds of music or artists you enjoy. Once you have created more than on station, you can click quick mix to mix up your stations instead of playing only one genre or artist.