Portable document format (PDF) was developed by Adobe and released in 1992. However, Acrobat, Adobe's PDF editing program, wasn't released until 1993. Since then, numerous changes to the program have increased the number of things you can do with a PDF file. The ability to split a PDF file in half can come in handy when you have a large file and more than one person editing or reviewing separate parts. You can split a PDF file in half without modifying your original.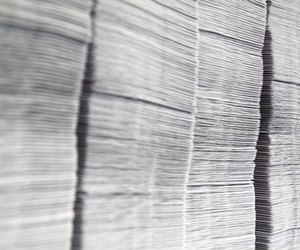 Step
Double-click on the PDF you want to split in half to open Adobe Acrobat and the document itself.
Step
Click "Document" and then "Split Document" in the top menu bar.
Step
Select "Number of Pages" and set the number of pages to half (or as close to half as possible) of the total number of pages in your PDF.
Step
Click "OK" at the bottom of the Split Document interface.
Step
Click "OK" on the confirmation window. Your new documents will be saved in the same location as your original and the title will be the same followed by "_part 1" and "_part2."
Step
Rename your documents as necessary.