With a wireless network setup, you can access the Internet from any computer in your house without having to struggle with cable connections. Many new computers and laptops come standard with a wireless network card, which enables it to connect to any wireless network in the area, provided you know the security code. As soon as you have your wireless network connection hooked up, you only need to connect your computer to the wireless network to have Internet access.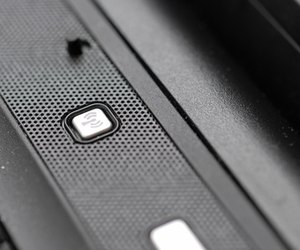 Step
Log on to your computer. If your computer does not have a built-in network card, plug the wireless network adapter into one of the USB ports in the front or back of your computer. Windows will automatically detect the adapter as a new USB device and may ask you to insert the CD that came with the adapter.
Step
Insert the CD and follow the instructions on the screen to install the drivers for the adapter. Some adapters are plug-and-play and will work immediately without requiring an installation disk.
Step
Switch the wireless Internet on if you have a laptop with a built-in wireless network card. The switch is usually situated just above the keyboard or on one of the sides of the laptop and can be recognized by an icon depicting an antenna and radio wave signals.
Step
Click on the "Start" button and select "Control Panel." Type "network" in the search box. The computer will now search for tools related to the network settings on your computer.
Step
Select "Network and Sharing Center." Click on "Change Advanced Sharing Settings" in the left pane.
Step
Click the down arrow next to your current network profile. Make sure "Turn on Network Discovery" is checked and click on "Save Changes." Type the administrator password for confirmation if Windows prompts you for it.
Step
Click on the network icon on the task bar at the bottom right of your screen. The computer will now search for all wireless connections in the area and display a list of connections that were detected.
Step
Select your network from the list and click "Connect." A box will pop up, requiring you to enter the network security code.
Step
Type in the network security code and click "OK." Windows will display a confirmation message that you are connected to the network.
Step
Open up your Internet browser. You should now be able to use the Internet.