Garmin is a company that offers a wide variety of electronic devices, among them global positioning satellite (GPS) navigation systems. You can use a GPS navigation device, actually a satellite receiver, while driving; it superimposes a roadmap onscreen using your exact location to provide navigational directions. It's not just for driving, though; you can use it while hiking, camping, geocaching, orienteering and more. Some models of Garmin GPS systems, such as the StreetPilot c340, allow you to update the maps. Updating your maps periodically ensures that the directions your device gives are always accurate.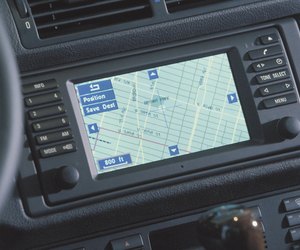 Step
Turn on your StreetPilot c340 and navigate to the "Map Info Page." This page will tell you the latest map installed on your device.
Step
Open a web browser on your personal computer. Navigate to the Garmin website. Visit the "Maps" page for the StreetPilot c340 from the Garmin website. This page is located in the resource section below.
Step
Click "View map updates for this product." This will tell you the latest version available for your device. If it matches the version currently installed on your StreetPilot c340, you don't need to download a new map. You may need to install the Garmin Communicator Plug-in if you've never updated your map before. A link to the plug-in is located in the resource section below. Once it's installed, you can download the updated map for your StreetPilot c340.
Step
Plug your StreetPilot c340 into your computer using the USB cable that came with your device once the map update is installed. This will enable you to download the updated map onto your device.
Step
Contact Garmin customer support if you need assistance during this process. You can contact support for consumer products by calling 1-800-800-1020 or by clicking on the "Email Product Support" link, located in the resource section below.