A proxy allows you to surf the Internet or use certain applications without worry. Websites, as well as programs, can install advertising spyware and adware onto your PC. This may cause your computer to run slowly or not be able to connect to various websites. With a proxy server address, you can use the Internet without other locations knowing your IP address. This will protect your computer from spreading information to undesired companies.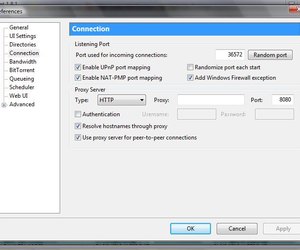 Step
Locate a proxy server address. Tech-FAQ has an extensive list of free proxy servers. Open "Notepad" and copy and paste two or three for later reference.
Step
Start the uTorrent application. Click the "Options" tab. Select "Preferences" and then the "Connection" tab on the left.
Step
Choose the type of proxy you copied in Step 1. These include, but are not limited to, "HTTP" or "SOCKS4." Insert the proxy address in the "Proxy" box. Change the "Port" option if necessary. Click "Authentication" if a username and password are required. Select the "Resolve Hostnames" and "Use Proxy for Connections" boxes. All information required will display with the proxy address.
Step
Click "Apply," then "OK." Close uTorrent and restart it.