In decades past, the manual switchboard was the solution for homes and businesses that required phone service. A "switchboard operator" was the conduit between the external phone lines and the internal ones. With the advent of digital technology, today's "switchboards" are virtual ones, which are managed by computer software. Whether you call it answering service software or a virtual switchboard, the process for receiving, sending and holding calls is relatively straightforward. Software of this type includes Switchboard by 8x8, nCall by nSolve, and CTI Software's The Answer, among others.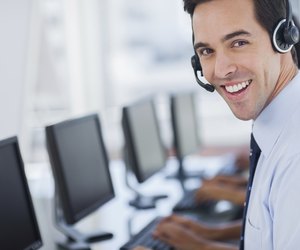 credit: 4774344sean/iStock/Getty Images
Step
Double-click on the switchboard software icon on your computer to open it. If prompted, enter your user name and password.
Step
Put on your headset, if you have one. In a busy call center or other work environment, people tend to wear headsets to reduce distraction and to keep others from hearing their conversations. Naturally, the headset should be connected to your computer's headphone jack.
Step
Press the "Answer" button with your mouse pointer to answer a call. If you don't see that option on your screen, look for a "Call" or "Phone" menu near the top of your screen, and then click it to open the menu. When you're engaged in an active call, the information about the call -- including the other person's telephone number -- will appear in a window on the screen.
Step
Put the call on hold by clicking into the active call window and then selecting "Hold," or by simply clicking "Hold" from the phone or call window.
Step
Make notes about the call and the client by typing any pertinent information into the "Notes" window.
Step
Transfer the call by clicking into the active call window, selecting "Transfer" from the call window, and then selecting the number to transfer the call to from the "Directory" menu -- typically found near the top menu bar, or in another window on the screen.
Step
End the call by clicking into the active call window and pressing "End," or by selecting "End" from the call menu.
Step
Initiate a call by selecting the "New" window on the screen, and then select the person's name from the Directory that appears -- or type the number manually into the phone number field. Alternatively, you may be able to click "Directory" first, select a number, and then click "Call This Person," or a similar function.