A wireless router is used to connect many different devices, such as computers or even printers, to the same internet connection, so that they can all access websites and share files together. Depending on the size of your home or office network, you may have networked devices that are located past the wireless router's normal range. If you already have a second wireless router, and do not want to purchase a separate repeater, you can change the settings on the router to use it as a repeating device, which extends the range of your network.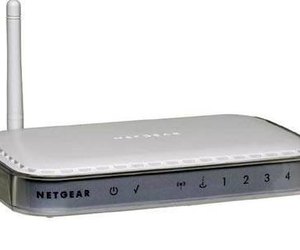 Step
Place the wireless router in between the two different segments of your network, and plug its AC adapter into a wall outlet. Take the software disc that came with the router, and insert it into the CD drive of one of the computers on the network that is within range of the router, and already has a wireless network card installed. Follow the instructions on the screen to install the router's software.
Step
Open up a web browser on the computer, once the software installation has finished. Click on the address tool bar at the top of the window, and type in the IP address "192.168.0.1," and then press the "Enter" key on your keyboard to bring up the router's configuration log in screen.
Type the word "admin" in the user name text box, if you have not yet changed the user name, and then leave the password field blank. Click on the "Log In" button to access the wireless router's configuration menu. Click on the "Basic Settings," tab and then click on the "IP Address" text box.
Step
Change the last number in the IP address to any number that is higher than the number of computers and other networked devices on the network, such as "20" if there are only 15 computers and printers on the network. Scroll down to the "DNS" heading, and click on the "disable DNS forwarding" radio box.
Step
Click on the "Advanced Settings" tab, and scroll down to the heading labeled as "DHCP." Click on the radio box marked as "Disable." Find the text boxes underneath the "Port Forwarding" heading, and delete any of the IP addresses listed there. Navigate to the "Firewall" tab, and click on the "Disable" check box.
Step
Navigate to the "Wireless Settings" tab, and click on the "Gateway" radio box. Return to the main menu screen, and click on the "Save Settings" button. Close down the web browser to finish changing the settings on your wireless router to use it as a repeater.