The iPhoto application on your Mac has basic photo management and editing capabilities. It even has a few hidden features. Hidden in the Mail options are templates that arrange images in interesting layouts. Send the resulting collage to people by email or to yourself for further editing using another app; when you are satisfied with the results, upload it to your favorite social networking site.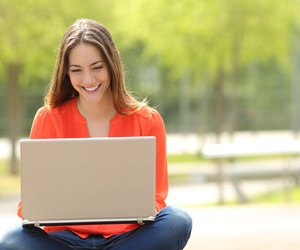 credit: AntonioGuillem/iStock/Getty Images
Step
Click "Photos" on the iPhoto sidebar. Hold the "Command" key on your keyboard and select the pictures you want to be part of the collage.
Step
Click the "Share" button and click the "Mail" icon. Enter the email address for the collage in the corresponding field and add a subject. Because there is no way to export the collage locally, use your own email address as the destination if you want a copy of the collage.
Step
Pick a collage template from the list of styles on the right side of the iPhoto window. Only a few of these designs are collages, so pick a style like "Corkboard" or "Postcard." Uncheck the "Attach photos to message" check box so the collage sends faster.
Step
Click the "Send" button to send the collage to the designated email address.
Step
Log into your email account and open the mail containing the collage if you sent it to yourself. Drag the collage image to your desktop to export it in JPEG format so you can edit it in your favorite image-editing program.