Plugging your home telephone into MagicJack, a small matchbook-sized device that fits into a computer's USB port, allows the user to talk to anyone in the United States or Canada free of charge. As a Voice over Internet Protocol (VoIP) provider, MagicJack operates using a computer's power and a high-speed Internet connection. As of August 2010, when you have your computer turned off for the evening, experience a power outage, have your computer out for repairs, or find yourself without an Internet service provider, you can still use your MagicJack in a few ways.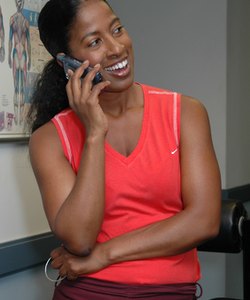 Step
Plug your portable MagicJack into another computer connected to the Internet, then wait for the MagicJack software to appear on the screen as usual. You can now make phone calls. You can use your MagicJack on any Macintosh computer or computer with Windows XP, Vista, or Windows 7. You do not need to register MagicJack each time you use it, making the device convenient for travelers.
Step
If your computer is turned off or inoperable, use the call-forwarding feature to transfer your MagicJack phone number to another phone number, such as to your landline, cell phone or business phone. Go to your MagicJack welcome page, click "My Subscriptions," and then click "Change Setting" under Call Forwarding. Check the "Check to Enable Call Forwarding" box, and enter the 10-digit phone number at which want to receive your forwarded calls. Click "Save Changes" when done. In this way, you can continue to hear and receive your phone calls by answering your other telephones–you just will not be able to make phone calls out using your MagicJack. Uncheck the "Check to Enable Call Forwarding" box to disable call forwarding.
Step
Receive calls to your free MagicJack voice-mail when you shut off your computer. Your MagicJack will continue to receive and store the messages you receive in the voice-mail system. You can check your messages remotely by using any telephone, calling your MagicJack phone number, pressing the star or asterisk key on the phone, and then entering your personal MagicJack voice-mail password when prompted.
Step
Access your voice-mail by using another computer, then pulling up the email account you originally set up with MagicJack. Your email receives all voice-mail as .WAV audio sound files, and provides you with the phone number of the caller, as well as the time, date and length of the message. Just click on the download of the sound file in your email, and the default media player on the computer will begin to play your audio message. You can use this method as an alternative to calling your MagicJack number from another phone.