Custom Photoshop brushes allow you to change the shape of the default brushes to add new designs or patterns to your images, without having to painstakingly draw them yourself. Free Photoshop brushes are available online in the form of ABR files. These files are compatible with the free image-editing software GIMP, which automatically detects Photoshop brushes when they are in the correct file format and you place them in the correct directory.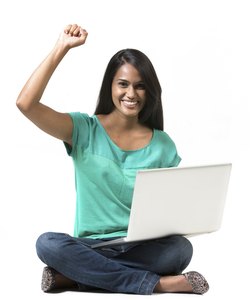 credit: sjenner13/iStock/Getty Images
Step
Open GIMP, click the "File" menu, select "Preferences," and then click the "+" icon next to "Folders."
Step
Select "Brushes" from the list of folders to view where the GIMP folder for storing brushes are located on your computer. Take note of this folder, as this is where you need to place the Photoshop brushes.
Step
Close GIMP, and then open the folder on your computer where the GIMP brushes are stored. For a default GIMP installation, this is C:\Program Files\GIMP 2\share\gimp\2.0\brushes.
Step
Copy or move the Photoshop brushes that you want to use in GIMP into the GIMP "Brushes" folder.
Step
Open GIMP, and then select the Paintbrush Tool from the Toolbox.
Step
Press "Shift-Ctrl-B" to open the Brushes dialog window if it is not displayed by default.
Step
Click "Refresh Brushes" to load the newly added Photoshop brushes in GIMP.