OneNote is a part of the desktop publishing series produced by Microsoft. The program enables users to compile a large variety of data types (such as written notes, screen shots, documents, graphs, images and video) in one location. The program changes all data so that it is searchable within the document through a built in OCR (optical character recognition) engine. This includes scanned print images. Learn how to use the scan function on OneNote and cut down on time spent searching through documents.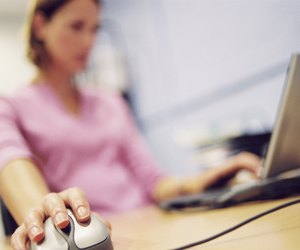 OneNote 2007, 2010
Step
Open the OneNote software and open the note folder where the scanned document will go.
Step
Click on the icon at the top of the note page that says "Scanner Printout" and has an image of an open scanner on it.
Step
Select the scanning device attached to the computer.
Step
Insert the paper document onto the scanner with the image face-down on the glass.
Step
Click "Start Scan" on the "Scanner Printout" window. Wait for the document to appear on the note page.
OneNote 2003
Step
Turn on the scanner and put the document on the glass face-down. Click the "Start" button on the scanner and wait until the document downloads. Save the file to the computer in a recognizable location.
Step
Open Microsoft OneNote software and find the folder where the scanned document will be inserted into.
Step
Click on the "Insert" menu at the top of the OneNote window. Scroll down to "Image" and click on it.
Step
Browse through the files on the hard drive to find the image saved in Step 1. Highlight the file name and click "OK." The file then appears in the OneNote document.