Many major software programs like Microsoft Office have zoom functions so you can easily enlarge or shrink the image on your computer screen. Before such zooming became common, however, many Toshiba computers offered a built-in Zooming Utility to let users zoom their screens with hot keys. Enabling the Zooming Utility on your Satellite, Portege or other Toshiba computer is straightforward. You can also select the programs for which zooming is enabled.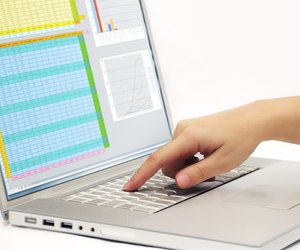 credit: akarelias/iStock/Getty Images
Step
Type "Toshiba" at the start screen and click the program's name when it appears.
Step
Click "Utilities" and then "Zooming Utility" to open the "Properties" screen for the Zooming Utility.
Step
Click "All Programs" if you want to enable zooming in every program listed. Alternatively, click "Custom" and select individual programs, such as Microsoft Office or Windows Media Player, to selectively enable zoom.
Step
Click "OK" to enable the zoom function and activate the function keys.
Step
Hold down the "Fn" key and press "2" to zoom in (enlarge) your screen, or "1" to zoom out.