A wireless mouse is used with a USB antenna that connects to the computer. One type of wireless mouse that you are able to install and use is the model 1359 from Microsoft. To install this type of mouse, you will need to follow instructions to set up the software driver on the Windows operating system.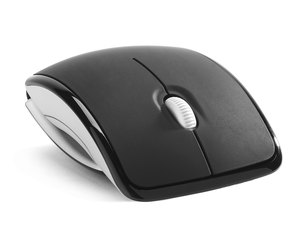 Install Software Driver
Step
Insert the installation CD into the CD/DVD drive on the computer. Wait for the InstallShield Wizard to appear on the screen. You may also click the "Start" button, type "[CD/DVD drive letter]\setup" into the "Start Search" box and press the "Enter" key.
Step
Click the "Next" button and then follow the prompts on the screen to install the software.
Step
Click the "Finish" button and then restart the computer to complete the installation.
Connect the Mouse
Step
Verify that you have inserted two fresh AA batteries into the mouse.
Step
Start the laptop or desktop computer, if it is not already running.
Step
Insert the receiver for the mouse into a USB port on the computer. Wait for Windows to recognize the device and install the required software.
Step
Press the button on the receiver until you see it start to blink. Follow the instructions if a dialog box appears on the screen.
Step
Press and then let go of the "Connect Channel" button that is on the mouse. When the green light on the receiver is solid and does not blink, the mouse is connected correctly.