One of the easiest, most popular and profitable ways to generate an additional income stream from your blog is to do some paid posting through paid blogging networks. These networks act as a middleman by connecting paying advertisers with bloggers-for-hire. Generally speaking, bloggers are basically paid to write and post their opinions and reviews of advertiser websites, products and services. Rules, guidelines and requirements vary from one blogging network to the other. Being professional and consistent is key to building a good reputation for yourself. Making money through paid blogging and posting can earn you $100 to $500 or more per month with each blog.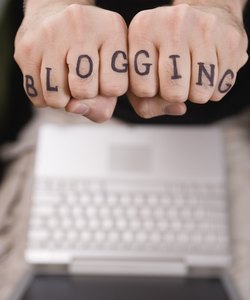 Step
In Notepad or other text editor, make a list of seven to 10 keywords that describe your blog site. Then, beneath this list, create and write a keyword-rich description of your blog. Save this file with a name such as "blogging keywords."
Step
Browse the websites of various paid blogging network sites to find the ones that appeal most to you. PayPerPost.com pays bloggers anywhere from $5 to over $200 per completed and approved post. Smorty.com pays $6 to $100 for each post and makes weekly payments. Smorty allows bloggers to have multiple blogs so income earning potential is theoretically unlimited. The page rank of your blog, along with a high "Smorty Star Rating" determines how much you can earn, up to $100 per post. ReviewMe.com pays bloggers to review products and services on your site. You choose what to review from a selection that ReviewMe provides, and are paid $20 to $200 per review.
LoudLaunch.com With LoudLaunch the amount you are paid per post is based on your blog ranking. LoudLaunch allows bloggers to be compensated for distributing our advertisers LoudLaunch press releases. Search through our advertisers latest press release campaigns, select campaigns aligned with your blog, post a Micro Press Release on your blog based on the advertisers campaign, and be compensated based on the exposure your blog can deliver.
Blogitive.com Once you are approved to the Blogitive system, you are given access to opportunities from companies to post about their news releases. You are paid per posting. The standard amount is per post is $5. This may vary depending on the sponsor. You must have a PayPal account in order to get paid with Blogitive.
BloggingAds.com BloggingAds is different. They supply the advertisers, the text and the money, all you have to do is post the ad on your blog. We are looking for bloggers to post one-time ads on their blog sites for money.
List continues below...
Step
SponsoredReviews.com A Sponsored Review is an article you write for an advertiser. You review their products and services and then post the review on your blog. Each advertiser has his or her own requirements. Bloggers can earn anything from $10 to $500+ for each review.
BlogsVertise.com Once approved, your blog goes into the assignment queue. The blogsvertise administrator then assigns writing tasks for what our advertisers want you to mention in your blog. The current payout rate for new accounts is $4 - $25 per entry.
PayU2Blog.com If your blog meets our requirements then you can make money blogging in our system and you can count on Payu2blog to deliver that consistent steady income from advertising on your blog.
CreamAid.com CREAMaid is a service that lets you meet other bloggers with similar interests, and make money while doing it. Anyone can start using CREAMaid by inserting a CREAMaid Conversation widget inside her post. When your post is selected, you will be able to instantly collect a royalty for your contribution (usually about $5).
Contextual.v7n.com Do you own a blog? Blog publishers in the Contextual Links @ V7N Network make cash and get paid by PayPal for simply adding text links to their blog posts. Currently publishers make $10 per link.
LinkWorth.com LinkWorth is a search engine marketing company that offers a variety of monetization options for bloggers. LinkWorth gives up to 70% of the revenue for its ads.
InBlogAds.com If you have a blog, you can make money simply by reviewing other websites. You receive 60% of the sale price for each review.
DewittsMedia.com Your blog must have a minimum Page Rank of 3 to be accepted. You get paid a flat fee of $10.00 per post.
LinkyLoveArmy.com Your rate of pay to blog for this company is based on your Google's PageRank (from $5 to $16 per post).
PayMeToBlogAboutYou.com The process is simple! Register, look for bloggers or advertisers, negotiate back and forth via the messaging system, strike a deal, BUZZ and compensate!
BlogChex.com Migrate your existing blog or start a new one . Refer a friend and get 5% of what the friends blog site makes. Promote your blog and get paid.
Step
Apply to as many of the above listed paid blogging network sites as possible. Why? Your blog may not be accepted or approved by some companies, so you're going to want to make sure that you're getting every opportunity possible to get paid to blog.
After applying, be patient. Some networks have a fast approval process, while others seem to take forever. I'm still waiting on some of these.
Step
Write, blog and make money! Good Luck!