The Sony VAIO PCG-7D2L notebook, also known as the VAIO VGN-FS740/W, balances portability and features while maintaining the high performance levels the brand is known for.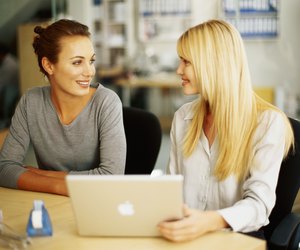 Function
The Sony VAIO PCG-7D2L notebook is a workspace notebook. According to Sony, it can run Windows XP as well as basic versions of Windows Vista and 7. It also can run the latest word processing software such as Microsoft Office 2010, and its graphics card is capable of handling minor graphics applications.
Features
The Sony VAIO PCG-7D2L notebook comes with an Intel Centrino Mobile Pentium M Processor 740 with a clock speed of 1.73GHz and a 2MB L2 cache. It has a 915GM Intel Chipset with a bus speed of 533MHz. Basic specifications show two memory slots, each with 256MB of 400MHz DDR2 RAM. It is expandable to 2GB. The PCG-7D2L comes with Windows XP Home Edition Service Pack 2, as well as software from Sony and a 90-day-trial version of Norton Internet Security. The laptop's graphics are powered by an Intel Graphics Media Accelerator 900 with 128MB of shared video memory. The PCG-7D2L comes with an 80GB 4200 rpm hard disk drive with expandable slots for PC cards and Sony's Memory Stick, Memory Stick Pro and Memory Stick Duo. The laptop has a DVD/RW optical drive and built-in speakers. Ports include: audio, VGA out, two USB, printer, modem and RJ-45 Ethernet. Networking is handled via an integrated V.90 Modem, 10Base-T/100Base-TX Fast Ethernet and Intel 802.11b/g integrated wireless LAN. The keyboard is supplemented with S1, S2 (programmable), Wireless on/off action buttons. The laptop is powered an external AC adapter and by a lithium-ion battery with a life of 2-3 hours on a standard charge.
Size
The Sony VAIO PCG-7D2L notebook is 14.33 inches wide, 1 to 1.41 inches high and 10.41 inches deep. The notebook weighs 6.28 pounds or 2.84 kilograms with a standard battery.