Windows Media Video files (or WMV for short) is a popular format for compressed video because it allows high-quality video in a small file size that is ideal for emailing. Short files--generally no longer than five minutes long--will fall under most email attachment size limits and will attach quickly. The best way to email these files is to attach them directly to messages.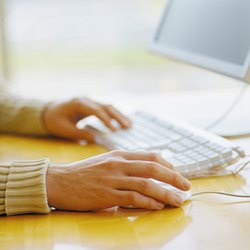 credit: Ciaran Griffin/Stockbyte/Getty Images
Prepare Video for Sending
If the video clip you want to send is in another format, like AVI or MPEG, you will need to convert it to the smaller WMV format before you can send it on its way. To format video files, you can use freeware like Format Factory or ImToo. Once the video has been converted, the file size should be much smaller. The goal is to get the video under 500 megabytes. If the converted file is too large, use video editing software (like iMovie or Windows Movie maker) to split the video into portions that you can send separately.
Attach File
Open your email handling program (or webmail page) and find the "Compose" section. Type your recipient's email address in the "To" section and compose a subject heading as well as a short message. Then find the "Attach" function. A new window will pop up showing the contents of your computer. Browse for the video file you want to attach, highlight it and press "OK." If you had to split your file into separate components, just attach the first video. After selecting the file, you will need to wait a few minutes while the file is uploaded to your mail server. A status bar should appear showing the attachment's progress. Once finished, press the "Send" button to send the email. If you separated the WMV file, compose a new message and attach the second part in the same way that you attached the first.