According to Merriam-Webster Dictionary, a print head is "usually a movable part of a printer that contains the printing elements." The print head applies the ink to the paper. The average print head life is about 200 million characters or 3,500 pages A4 size pages (60 rows with 80 characters per row) monthly.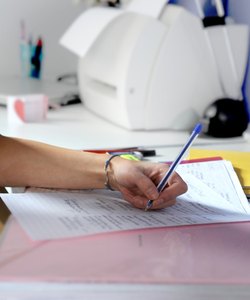 Print Head Types
Single print heads are the most commonly used. Dual print head systems are engineered for advanced image production and speed. They are used in Canon's iPF6100 for printing posters and business documents.
Micro Piezo Print Head
This print head uses an electric signal to send to the piezo elements located on the print head, maintaining precise control for a higher quality print. The ink is fired according to the force by the change in the piezo elements.
Dot Matrix Print Head
It uses pins to shoot ink against a ribbon printing a matrix of dots. Dot matrix printers are still in use for printing multi-copy documents.
Kyocera Thermal Print Head
Kyocera KLE Series thermal print heads are used to print rigid materials such as credit cards and ID cards using real edge print heads. These print heads can print without bending the cards.
Laser Print Head
A laser beam strikes a rotating multifaceted polygon mirror at a speed of 2,000 to 50,000 rpm. A charged image is produced and passed over a toner cartridge producing an image on a page.
Light Emitting Diode (LED) Print Head
These print heads use lights emitted from the light-emitting diodes, go through the lenses, and write the images on a drum. Fuji Xerox uses this technology.