New or returning Comcast cable Internet customers may see an unexpected set after they order their service from a sales representative and buy all of their equipment: an activation screen on their Internet browser asking for their account information. This is a normal part of setting up the Internet connection, and the user will only see the screen when they activate their service or after a service interruption.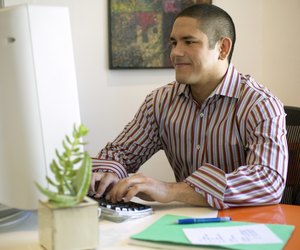 credit: Creatas Images/Creatas/Getty Images
Broadband
Broadband Internet, such as Comcast's cable Internet, is a dedicated line a particular company has into someone's home to send and receive data from the World Wide Web. Using this type of Internet access requires that the company authenticate a household's data line before they can use it. This data line is persistently active, so unlike older dial up services a user only has to authenticate their data line once.
Technician Service Activation
Comcast has two options for activating an Internet connection: a technician visiting or a self-installation. Having a technician visit for the activation means that the customer has to schedule an appointment and wait until that date before they can get Internet access, but he will handle every aspect of the installation process so the user doesn't have to. If a home has been disconnected from Comcast's cable infrastructure, then a technician will have to visit and handle the installation in order to reestablish this connection.
Self-Activation
If the home is connected to Comcast's infrastructure, then the user can handle his own installation. The user only has to plug a cable modem into a cable jack and connect the modem to a router if it is necessary for his home's network. Once the user connects a computer to the network and open a Web browser, he will be greeted by Comcast's activation screen. When the user types his information into the appropriate fields, Comcast links the user's account to his line and activates his Internet connection.
Service Disruption
Once a line is authenticated, the user will have a continuous connection to the Internet the he will not have to re-authenticate. After the line is set up, the only time the user will see an activation screen is if he falls behind on his monthly payments and Comcast suspends his service. If this happens, the user will see an activation screen asking for the user's account information, then payment information for his account's outstanding balance. After the user enters all this information his service will be restored.